Here are some places we've been mentioned:
Video of the farm made by Fête Greenville for GreerMade!
Article in SCBizNews on niche farming
Making it Grow: recorded in summer 2017, airs in spring 2018
Also on: YourCarolina, Studio62, Edible UpCountry, OnlyInYourState.com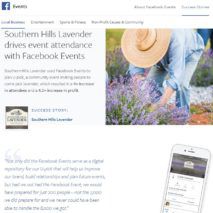 In 2016, our Upick event on Facebook went crazy – like really crazy.  We thought we might have 200 people at our first Upick day.  We posted the event on Facebook and by the time the day got there, we were expecting 2,000.  We had 8,000.  You can read all about that here.  This is about what happened after that.  Facebook noticed our event and contacted us to do a case study!!  You read that right – a person from Facebook emailed me.  I couldn't believe it and I checked out the person's linked in and googled them before I responded – I had to make sure it was real!
Fast forward to March 2017 and our case study is LIVE on events.fb.com!  https://events.fb.com/success-stories/southernhillslavender/  We are super humbled and I'm still geeking out!!  ?
About our 2016 Upick – the big one!