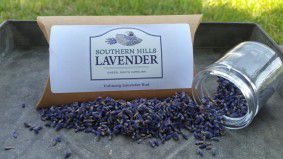 Did you know???  Yes, you can eat lavender!  Lavender is an herb just like rosemary and thyme and you can eat lavender in endless dishes, drinks and sides!
In this area, there are two main types of lavender: x. intermedia and Angustifolia.  The intermedias have more camphor in their oil and are usually not eaten or only used in savory dishes.  Angustifolias have sweeter oil and are great for cooking, baking and drinking.  Culinary lavender means it has been cleaned extensively to remove spent blooms, leaves, stems, dust, and other bits of nature.  When you look at your culinary lavender, you should mostly see bud.  No matter where you get your culinary lavender, make sure: 1) you know what kind it is (Angustifolia) and 2) that it's been cleaned.
Lavender is very popular in sweet and savory dishes.  One of our favorites is Lavender Lemonade (below) – it even changes color as you make it!  Cookies are an easy favorite as well, but try lavender with pork and sweet potatoes!  There are several cookbooks dedicated to lavender.  Try some recipes and let us know what you like!
Lavender Lemonade
4 cups water, divided
1 tablespoon dried lavender bud
2/3  cup sugar
1 cup lemon juice (about 6 lemons)
In a medium pan, bring 1 cup of water to boil. Remove from heat and add lavender buds.  Steep for 30 minutes.  Strain liquid and discard buds.
In saucepan, combine 3 cups water and sugar and bring to a boil, cook 1 minute or until sugar is dissolved.
In pitcher, combine lavender water, syrup and lemon juice.
Cover and chill, serve over ice.
If you double or triple this recipe, don't double or triple the lemon juice – start with 1 cup and add by 1/2 cup increments.
Lavender Cranberry Sauce
1 12oz bag fresh cranberries
1 cup sugar (less if you prefer)
2 tsp lavender
1 cup water (optionally, exchange for orange juice)
"Blitz" lavender with portion of sugar (blitz in mini-processor or coffee grinder never used for coffee)
Put all ingredients in sauce pan and bring to just boiling.
Put on medium low and simmer for 10 minutes (optionally, simmer longer if you want the berries broken down more).
Chill overnight.
Lavender Pork Loin (from Discover Cooking with Lavender)

2 tbsp plain dry breadcrumbs
2 tbsp Italian parsley, chopped
2 tsp lavender buds finely ground
2 tsp extra virgin olive oil
1 garlic clove, minced¼ tsp salt
1 pound pork tenderloin, trimmed of all fat
Pre-heat your oven to 450 degrees F.
Spray a roasting tin with non-stick spray.
In a small bowl combine breadcrumbs, parsley, lavender, olive oil, garlic and salt.
Rub the pork tenderloin with the mixture.
Place pork in the pan and let it sit for 30 minutes to come to room temperature.
Roast the pork for 20 to 25 minutes or until the crust is brown and the pork reaches 160 degrees F.
Transfer to a carving board, tent loosely with foils and let rest for 10 minutes.
Cut into ¼ inch slices and serve.
Lavender Martini (from Discover Cooking with Lavender)

Lavender Syrup:
1 cup water
1 cup sugar
2 tablespoons fresh or 1 tablespoon dried lavender bud
Combine water and sugar in small pan and boil until the sugar is dissolved. Remove syrup from heat and add lavender, and steep for 30 minutes.
Strain the liquid into a jar with a tight-fitting lid. Store in the refrigerator.
Cocktail ingredients:
4 oz vodka
2 oz lavender syrup
1 oz lemon juice
Ice
Pour vodka, syrup and lemon juice together into a cocktail shaker. Add ice cubes and shake for 15 seconds.
Strain into two chilled martini glasses and garnish with lavender sprigs.
Lavender Shortbread (from Discover Cooking with Lavender)

2 cups all-purpose flour
¼ teaspoon salt
1 tablespoon dried lavender bud
1 cup unsalted butter, room temperature
½ cup powdered sugar
1 tablespoon lemon zest
1 teaspoon lemon juice
Preheat oven to 350 degrees F.
Whisk flour, salt, and lavender together in a bowl.
In another bowl using an electric mixer, cream butter until it is smooth. Add sugar and beat until mixture is light and fluffy.
Beat in the lemon zest and juice.
Gradually add flour mixture, beating just until it is combined with the butter mixture.
Flatten the dough into a disk, wrap in plastic wrap, and chill for at least one hour.
ON a lightly floured surface, rool dough until it is about ¼ – ½ inches thick.
Line two cookie sheets with parchment paper. Cut dough using cookie cutters.
Place the cookies on cookie sheets and chill in the refrigerator for 15 minutes.
Bake shortbread in the middle of the oven for 8 to 10 minutes or until golden brown.